DUBAI: An Emirates plane with 300 people on board crash-landed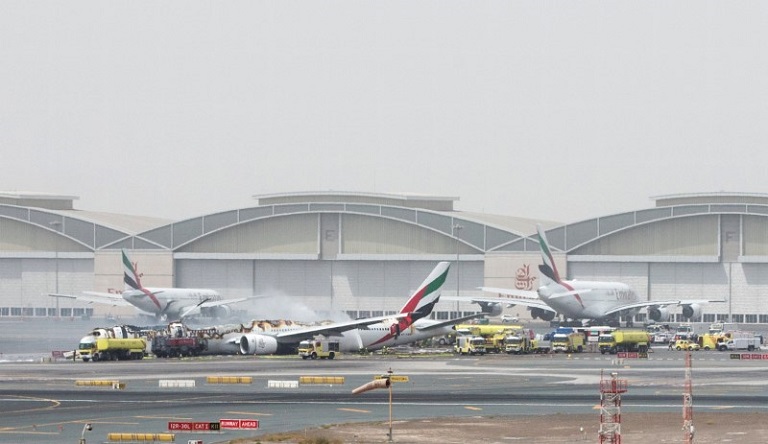 (Aug 3) at Dubai airport but all the passengers were evacuated safely.
Flight EK521 was flying from Trivandrum International Airport in Thiruvananthapuram, India, to Dubai, where it had to make an emergency landing.
Emirates can confirm that an incident happened at Dubai International Airport on 3rd August 2016 at about 12.45pm local time.
— Emirates airline (@emirates) August 3, 2016
Videos purportedly of the incident showed a tower of flame bursting from the front of the aircraft, and then a thick black plume of smoke rising into the sky.
Photographs of the incident posted on social media showed a plane lying crumpled on its belly on the tarmac with black smoke pouring from its upper section.
A spokesperson for operator Dubai Airports said all passengers and crew had been safely evacuated and the emergency services were managing the situation. Emirates also confirmed all passengers and crew were accounted for and safe.
Concerned Authorities at #Dubai International Airport are dealing with the incident at the moment to ensure safety of all
— Dubai Media Office (@DXBMediaOffice) August 3, 2016
A man waiting for relatives who were on the flight said he had spoken to them by phone. "They said they're safe and alright, but that they felt a great panic as the plane was on fire. I'll be comfortable when I see they are safe."
Another man said his family had also told him they were OK and there had been a problem with the landing gear.
ARRIVALS, DEPARTURES SUSPENDED
Dubai airport, the world's busiest in terms of international passengers, was shut down until further notice and an update on the status of operations at the airport would be issued at 5pm (1300 GMT).
"All operations (arrivals and departures) at (Dubai International) DXB have been suspended until further notice following the incident involving flight EK521," Dubai Airports said on Twitter.
The live arrivals page on Dubai Airports' website showed that no flights had arrived or landed at any of the airport's three terminals since about the time of the incident at 0845 GMT.
Emirates initially said there had been 275 passengers and crew aboard the plane, a Boeing 777-300. It later confirmed there were 282 passengers and 18 crew on board, including 226 Indians, 24 Britons and 11 Emirati nationals.
In its media statement posted on Facebook, Emirates said: "We are in the process of opening our customer assistance line and will share these details soon but at this stage we have no further information on what may have caused the accident. Our priority remains with the passengers and crew involved.
"We are expecting an 8-hour network wide delay, more information will be available on the Emirates website and social media channels."
Planemaker Boeing said in a statement it was monitoring the situation in Dubai and it would be working with Emirates to gather more information.